COVID-19 UPDATE: GOVERNOR BRIAN KEMP SHELTER IN PLACE EXECUTIVE ORDER AND ADA GUIDANCE
April 2, 2020
Dear Valued Patients
Today, Governor Kemp issued a stay at home executive order for the entire state. The order states:
"All residents and visitors of the State of Georgia are required to shelter in place within their homes of place of residence, meaning remaining in place within their place of residents and taking every possible precaution to limit social interaction to prevent the spread or infection of COVID-19 to themselves or any other person, unless they are… Conducting or participating in Essential Service".
The definition of Essential Services in the order includes "engaging in activities essential for the health and safety of the family or household members, such as seeking medical, behavioral health, or emergency services".
Given the current order, the professional staff of Encore Family Dentistry are still committed in providing dental emergencies and urgent services.
CLICK HERE to the text of the Governor's order.
The American Dental Association published an aid to help define what conditions are considered dental emergencies, urgent dental care, and describes procedures that are non-emergency procedures. Additionally, on April 1, 2020, the ADA issued a statement for "dentists keep their offices closed to all but urgent and emergency procedures until April 30 at the earliest."
CLICK HERE for the ADA statement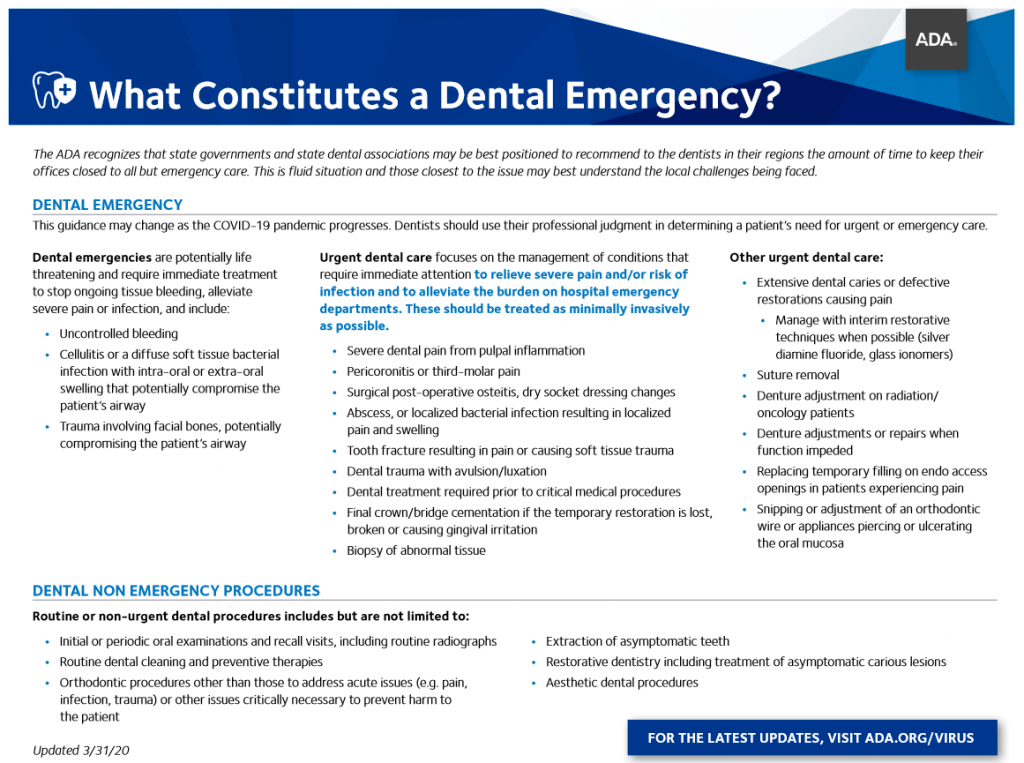 Sincerely,
Dr. Castiblanco & Staff
---
COVID-19 UPDATE: COBB COUNTY EMERGENCY DECLARATION



March 24, 2020
Dear Valued Patients,
On March 24, 2020, the Cobb Country Chairman issued a Declaration of Emergency in Cobb Country due to spread of the COVID-19 virus. The declaration allows for the operation of essential business without any time span restrictions and includes "healthcare operations" in the definition of an essential business.
Encore Family Dentistry continues to follow the recommendations provided by the Federal and State authorities and by the American Dental Association to not perform elective procedures. We are, however, as described in the March 17, 2020 update below, still offering emergency and urgent services on a case-by-case basis to established patients. Please call the office for further guidance.
Cobb Country Emergency Declaration Reference Source: https://s3.us-west-2.amazonaws.com/cobbcounty.org.if-us-west-2/prod/2020-03/Declaration%20of%20Emergency.pdf
Sincerely,
Dr. Castiblanco & Staff
---
CHANGES IN DENTAL OPERATIONS

March 17, 2020
Dear Valued Patients,
During these difficult times, your safety and ours continues to be our prime concern! We are closely monitoring the evolving situation with COVID-19 including recommendations and directions set forth by the Center of Disease Control (CDC), the Georgia Department of Public Health (GDPH), and the American Dental Association (ADA). The ADA recommended yesterday "dentists nationwide should postpone elective procedures for the next three weeks in response to the spread of COVID-19 virus". Given this recommendation, we will adjust dental operation as follow:
We will postpone all elective and routine care procedures beginning tomorrow Wednesday March 18th, 2020 for at least three weeks.
We will be contacting all scheduled patients in the upcoming days to reschedule their appointments (if we haven't already done so)
Our front desk will remain available to answer the phone, re-schedule appointments, or answer questions during regular business hours.
Encore staff will remain available to help with dental emergencies or to provide referrals when appropriate. A dental emergency may include:
Severe tooth pain with throbbing that prevents sleep and/or daily functioning
Swelling of gums, mouth, face or neck
Broken/painful teeth
If you are unsure if a situation is an "dental emergency", please do not hesitate to contact our office and will be happy to assist you.
We will maintain an emergency phone number to be able to reach Dr. Castiblanco outside of normal business hours, otherwise please call the office. The line will also be active if government officials place restrictions on dental office operations. To reach the emergency line, call the office phone number (770-977-0977) and the voicemail will prompt you to the emergency line. We will also have access to our email: office@encoredentalcare.com.
IMPORTANT: if you experience a life-threatening emergency, do not call the office and instead call 911 or go to the closest emergency room.
We will continue to monitor the situation and make adjustments as needed, but most importantly the professional staff at Encore are committed in being available when you need us. Thank you for being part of our dental family! Please wash your hands and practice social distance so that we can overcome this virus!
Sincerely,
Dr. Castiblanco & Staff
---
COVID-19 UPDATE
March 10, 2020
Encore Family Dentistry places the safety of our patients as our highest priority! As a valued patient, you and our staff are part of our dental family and we want to keep everyone safe and informed.
We are closely monitoring the situation with the coronavirus (COVID-19) and we are following the Center for Disease Control (CDC) guidelines for healthcare professionals. In addition to the CDC guidelines, here are some additional actions we are taking:
Training the staff on the CDC guidelines for healthcare professionals and latest developments.
Cleaning and disinfecting surfaces more frequently around the common areas. Note: operatories and sterilization areas are always clean to high standards as part of normal business.
Screening patients before they get seated for their appointment.
In the patient waiting area and around the dental office: we included alcohol-based hand sanitizers, tissues, posted communication posters, and we reduced the number of toys and magazines available to reduce risk of contamination surfaces.
IMPORTANT – WE NEED YOUR HELP!
While we are taking action, we also need your cooperation in helping us maintain the safety of the office and your fellow patients. How can you help? Here are some guidelines:
It is important that if you are experiencing a fever, chills, coughing or shortness of breath, DO NOT come to the office for your appointment and instead call the office to reschedule.
If you have traveled anywhere internationally in the past 3 weeks, we ask you to call the office and notify the staff of your travels before arriving to the office for your appointment.
Follow CDC guidelines for avoiding spreading germs and viruses before and during your visit.
CDC recommends washing hands very frequently, covering your coughs/sneezes, and avoid touching your face.
For more information, please visit the CDC at: https://www.cdc.gov/coronavirus/2019-ncov/community/index.html
If you have any questions of concerns, please do not hesitate to call the office at 770-977-0977.
Sincerely,
Dr. Castiblanco & Staff