WHAT TO EXPECT DURING YOUR NEXT APPOINTMENT
You are part of our dental family and as a family member, your safety, health, and well-being is at the forefront of our minds! Given the new challenges presented by the COVID-19 virus, we have made changes to the office, acquired new tools, and changed how we provide our services. These new changes will undoubtedly change the patient experience you may be accustomed to. As each adjust to the "new normal" we ask for your understanding and patience as our staff works hard to keep you safe and provide you the absolute best dental care possible in the Marietta & East Cobb area!
Before your appointment:
A member of our staff may give you a call to remind you of your appointment and ask questions pertinent to COVID-19 screening.
To help minimize time spend in the office, we are asking patients to complete the COVID-19 consent form and other forms prior to your appointment by CLICKING HERE. Please enter you first and last name and the date of your appointment. The next screen will give you access to the forms.  If unable to access the forms, we will have hard copies in the office.
IMPORTANT: If you are not feeling well, have any of the COVID-19 symptoms (see the CDC symptoms list), or have recently been in contact with a person who have tested positive for COVID-19, please call our office to re-schedule your appointment!
During your appointment:
Upon arrival, please remain in your vehicle and call our office to let us know that you have arrived for your appointment. If your provider and the treatment area is ready for you, we will ask you to please come up to the office.
Patients are asked to wear a mask before entering the dental office.
No use of the reception room will be allowed unless patient is a minor.
We ask patients not to bring guests to your appointment. For situations where a patient needs assistance from a guest, guest will be asked to follow proper social distancing rules and wear a mask at all times.
One of our team members will check your temperature and ask you to sanitize or wash your hands. They may ask additional COVID-19 screening questions, and will ask you to sign any forms if not done online.
When you are in the treatment room, your provider will give you a 1% hydrogen peroxide pre-treatment rinse.
Challenges associated with COVID-19 require clinicians to provide service to new safety standards. You may notice new equipment and tools used during your service that you may not have seen before including the use of special masks and face shields. We welcome any questions or feedback you may have!
After your appointment:
Before leaving the treatment room, we ask patients to put on their masks.
When checking out with the front office staff, ONLY 1 patient at a time is allowed. If another patient is in the checkout area, please maintain social distancing by standing at least 6 feet or more away from the nearest person.
If possible make your next appointment with your provider or call to make your next appointment.
As always, we are here to help so if you have any questions or concerns, please feel free to call and speak with our office staff.
Sincerely,
Dr. Castiblanco & Staff
---
CDC UPDATED MASK USAGE GUIDANCE
May 17, 2021
On May 16, 2021, the CDC updated their mask usage guidance for the general public. In summary, the new guidance says:
"If you've been fully vaccinated, you can resume activities without wearing a mask or staying 6 feet apart, except where required by federal, state, local, tribal, or territorial laws, rules, and regulations, including local business and workplace guidance."
It is important to note that the CDC also states this guidance is:
"not intended for healthcare settings."
While infection and death rates continue to decrease in the United States, the CDC points out that there are key aspects of the vaccine-virus interactions that are not well understood ad this time including:
How effective the vaccines are against variants of the virus that causes COVID-19?
How well the vaccines protect people with weakened immune systems, including people who take immunosuppressive medication?
How long COVID-19 vaccines can protect people?
We take the health and safety of all of our patients, guest and staff very seriously. Given these unknowns and because we do continue to provide heath care to patients with various levels of health, we will continue to ask all patients and visitors to wear a mask at all times unless seated in an operatory chair and being actively seen by one of our providers.
If you have any questions or concerns regarding this policy, please do reach out to our staff, and we will work to address them.
Source: https://www.cdc.gov/coronavirus/2019-ncov/vaccines/fully-vaccinated.html
---
WHAT IS MASK MOUTH AND HOW YOU CAN PREVENT IT?
                                                                                February 22, 2021
Dentists across the industry are seen an increase prevalence of various oral health issues that are being attributed to wearing a mask for an extended period of time during the COVID-19 pandemic. The most common conditions being observed include: dry mouth, bad breath, and bleeding gums.
Some of the attributing causes is the disruption of your breathing pattern because it affects the amount of saliva in your mouth, dehydration because you tend to drink less water with a mask on, and the recycling of the air, in particular carbon dioxide, which affects the oral microbiome's acidity. Mask wearing is still very important in preventing COVID-19 infection, but you should become aware of these potential oral health side effects and take appropriate preventive steps.
Here are some things you can do to prevent "Mask Mouth"
Continue your routine visits to the dentist – This is always important part of maintaining your oral health.
Monitor tooth and gum conditions – If you notice any discoloration, pain, bleeding, or tenderness, see your dentist as soon as you safely can for treatment as mask mouth increases your chance for infection. Some oral conditions, if lead untreated, can lead to serious health issues such as periodontitis which often results in systemic inflammation.
Use alcohol-free mouthwash
Wear a clean mask
Stay hydrated
Avoid smoking
Sources:
---
RECENT STUDY REVEALS GOOD NEWS ON COVID-19 INFECTION RATES AMONG DENTIST
November, 25 2020
The American Dental Association (ADA) and the Journal of the American Dental Association (JADA) presented a COVID-19 study that measured the prevalence of the viral infection among American dentists. The results how that fewer than 1% of dentists nationwide were estimated to be COVID-19 positive as of June. This is the first large-scale collection and publication of U.S. dentists' infection rates and infection control practices related to COVID-19, according to ADA. The researches found that 99.7% of the dentist surveyed said they had implemented enhanced infection prevention and control procedures. Additionally, dentistry is considered one of the most at-risk professions for COVID-19 infection, however the prevalence of infection is far lower than other health professions and "This means that what dentist are doing-heightened infection control and increased attention to patient and dental team safety-is working" – Marcelo Araujo, D.D.S., Ph.D., chief science officer of the ADA and senior author of the report.
Since the outset of the pandemic, the professional staff of Encore Family Dentistry have implemented many measures recommended by the CDC, ADA, GDA and to ensure the safety of our patients and of the staff. We want all of our patients to feel safe, comfortable, and we strive to provide only the best dental care in Marietta and East Cobb area.
Dr. Castiblanco, Dr. Camp and the professional staff of Encore Family Dentistry with you and your family a HAPPY THANKSGIVING!
---
COVID-19 UPDATE- NEW CDC GUIDANCE
October, 6 2020
According to the latest CDC guidance published October 5th, COVID-19 tends to spread thru close contact (less than 6 feet) with someone with the virus rather than airborne transmission. The guidance, however, cautions that under special circumstances, airborne transmission can occur! These circumstances include: enclosed spaces, prolonged exposure to respiratory particles, or inadequate ventilation or air handling. You can access the guidance here: Scientific Brief: SARS-CoV-2 and Potential Airborne Transmission
Why is this information important?
Recent data from the CDC show that the national trend of COVID-19 cases has not stabilized and in fact its increasing.  As the weather changes to cooler and dryer air, people will spend more time indoors, and the dryer air may allow the virus to travel further.  Additionally, the seasonal flu may add additional strain to the health care system as the flu and COVID-19 share some of the same symptoms.  Regularly wearing a mask around individuals, washing hands with soap frequently, and not letting your guard down will go a long way in preventing infection of COVID-19.
Below is the most recent data as of today from the CDC for United States COVID-19 Cases  by State and Trends in Number of COVID-19 Cases in the US Reported to CDC, by State/Territory.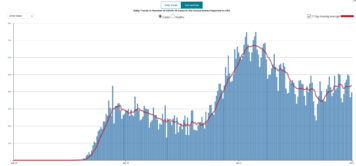 Data source: https://covid.cdc.gov/covid-data-tracker
---
PUBLIC SAFETY ANNOUNCEMENT – USE OF MASKS

July 9, 2020
As COVID-19 continues it's uncontrolled spread thru many of our communities, it has become a necessity for everyone to use the few tools we do have to help control it and one of those tools are masks. For various reasons, there seems to be some resistance, confusion, or apprehension in the general public to wearing masks. This video help illustrate why mask are very important. Keep in mind that using masks will not eliminate the risk of transmission or getting infected with the virus but it goes a long way in reducing the risk.
PRO TIP: Make sure you clean reusable cloth masks after several light uses or after a period of heavy use or disposable mask if it's not a reusable one. Using masks for a very long time without cleaning them can create an environment for bacteria to flourish.
One more thing! Don't forget to like us on our Encore Family Dentistry Facebook page.
Dr. Castiblanco & Staff
---
COVID-19 UPDATE: OFFICE REOPENING PLAN
May 25, 2020
We are exited to announce that we just purchased and received three Crane True-HEPA + UV-C filter air purifiers and are in the processed of ordering a few more! These purifiers will further improve our COVID-19 preparations by filtering out pathogens and render harmless viruses that may be the air via the UV-C light technology.  This is one of many things that are being done at Encore Family Dentistry to address the new normal of COVID-19 and help keep everyone safe and healthy.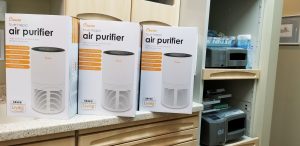 Sincerely,
Dr. Castiblanco & Staff
---
COVID-19 UPDATE: OFFICE REOPENING PLAN
April 27, 2020
Dear Valued Patients
We know these have been difficult times for everyone and we hope that this email finds you well and healthy and with a bright smile!
During the shelter-in-place period, our staff has been working hard addressing dental emergencies and preparing the office for eventual re-opening. Government agencies and leading experts have consistently said that COVID-19 is likely to continue to be a challenge for the foreseeable future which will force a "new normal" for individuals and businesses. Given the recent announcement by the Governor and the Georgia Board of Dentistry, we have put a plan together that will guide the re-opening of the office. This plan is guided by recommendations from CDC, ADA and other credible organizations in order to ensure your safety and that of the staff considering the "new normal".
The plan involves a soft opening divided in the following two phases. Please note we will continue to address dental emergencies regardless of the phase.
Phase 1 – Starting on May 4th, 2020, we will resume providing Essential Services and we will prioritize patients who have called with urgent dental needs during the suspension of non-emergency services.
Phase 2 – On May 26, 2020, we will resume Non-Essential dental treatment including dental cleanings and exams.
If you have questions on what is considered Essential vs Non-Essential please call the office for guidance. We will continue to monitor state authorities and these plans may be modified as appropriate.
Sincerely,
Dr. Castiblanco & Staff
---
COVID-19 UPDATE: GOVERNOR BRIAN KEMP SHELTER IN PLACE EXECUTIVE ORDER AND ADA GUIDANCE
April 2, 2020
Dear Valued Patients
Today, Governor Kemp issued a stay at home executive order for the entire state. The order states:
"All residents and visitors of the State of Georgia are required to shelter in place within their homes of place of residence, meaning remaining in place within their place of residents and taking every possible precaution to limit social interaction to prevent the spread or infection of COVID-19 to themselves or any other person, unless they are… Conducting or participating in Essential Service".
The definition of Essential Services in the order includes "engaging in activities essential for the health and safety of the family or household members, such as seeking medical, behavioral health, or emergency services".
Given the current order, the professional staff of Encore Family Dentistry are still committed in providing dental emergencies and urgent services.
CLICK HERE to the text of the Governor's order.
The American Dental Association published an aid to help define what conditions are considered dental emergencies, urgent dental care, and describes procedures that are non-emergency procedures. Additionally, on April 1, 2020, the ADA issued a statement for "dentists keep their offices closed to all but urgent and emergency procedures until April 30 at the earliest."
CLICK HERE for the ADA statement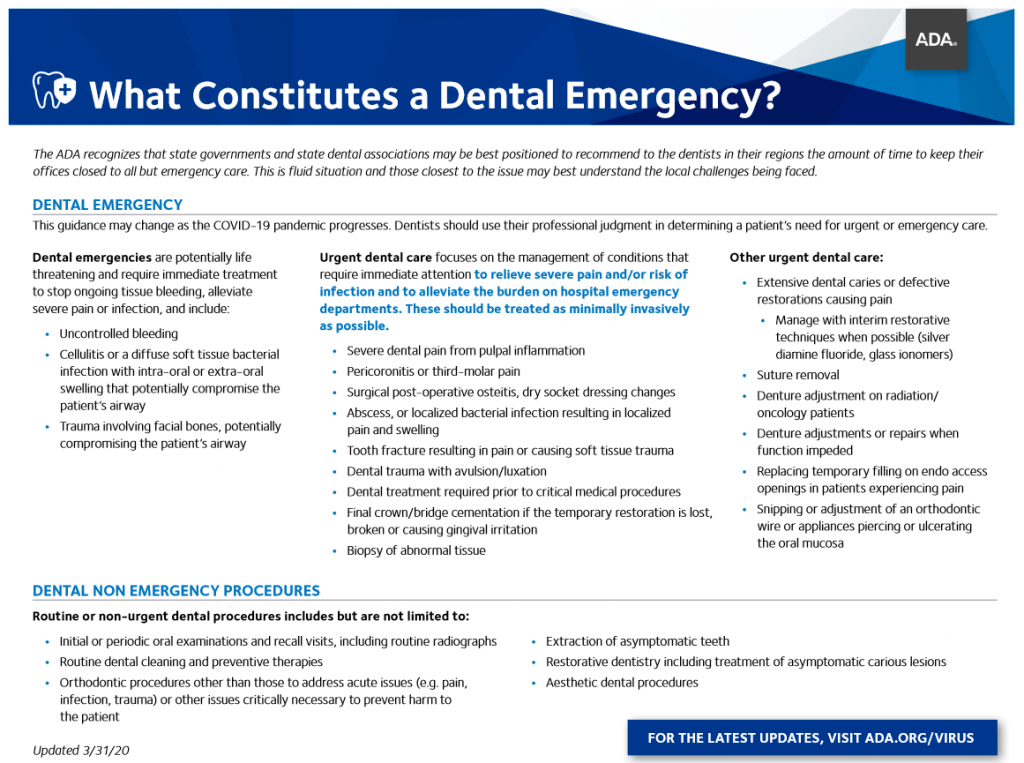 Sincerely,
Dr. Castiblanco & Staff
---
COVID-19 UPDATE: COBB COUNTY EMERGENCY DECLARATION



March 24, 2020
Dear Valued Patients,
On March 24, 2020, the Cobb Country Chairman issued a Declaration of Emergency in Cobb Country due to spread of the COVID-19 virus. The declaration allows for the operation of essential business without any time span restrictions and includes "healthcare operations" in the definition of an essential business.
Encore Family Dentistry continues to follow the recommendations provided by the Federal and State authorities and by the American Dental Association to not perform elective procedures. We are, however, as described in the March 17, 2020 update below, still offering emergency and urgent services on a case-by-case basis to established patients. Please call the office for further guidance.
Cobb Country Emergency Declaration Reference Source: https://s3.us-west-2.amazonaws.com/cobbcounty.org.if-us-west-2/prod/2020-03/Declaration%20of%20Emergency.pdf
Sincerely,
Dr. Castiblanco & Staff
---
CHANGES IN DENTAL OPERATIONS

March 17, 2020
Dear Valued Patients,
During these difficult times, your safety and ours continues to be our prime concern! We are closely monitoring the evolving situation with COVID-19 including recommendations and directions set forth by the Center of Disease Control (CDC), the Georgia Department of Public Health (GDPH), and the American Dental Association (ADA). The ADA recommended yesterday "dentists nationwide should postpone elective procedures for the next three weeks in response to the spread of COVID-19 virus". Given this recommendation, we will adjust dental operation as follow:
We will postpone all elective and routine care procedures beginning tomorrow Wednesday March 18th, 2020 for at least three weeks.
We will be contacting all scheduled patients in the upcoming days to reschedule their appointments (if we haven't already done so)
Our front desk will remain available to answer the phone, re-schedule appointments, or answer questions during regular business hours.
Encore staff will remain available to help with dental emergencies or to provide referrals when appropriate. A dental emergency may include:
Severe tooth pain with throbbing that prevents sleep and/or daily functioning
Swelling of gums, mouth, face or neck
Broken/painful teeth
If you are unsure if a situation is an "dental emergency", please do not hesitate to contact our office and will be happy to assist you.
We will maintain an emergency phone number to be able to reach Dr. Castiblanco outside of normal business hours, otherwise please call the office. The line will also be active if government officials place restrictions on dental office operations. To reach the emergency line, call the office phone number (770-977-0977) and the voicemail will prompt you to the emergency line. We will also have access to our email: office@encoredentalcare.com.
IMPORTANT: if you experience a life-threatening emergency, do not call the office and instead call 911 or go to the closest emergency room.
We will continue to monitor the situation and make adjustments as needed, but most importantly the professional staff at Encore are committed in being available when you need us. Thank you for being part of our dental family! Please wash your hands and practice social distance so that we can overcome this virus!
Sincerely,
Dr. Castiblanco & Staff
---
COVID-19 UPDATE
March 10, 2020
Encore Family Dentistry places the safety of our patients as our highest priority! As a valued patient, you and our staff are part of our dental family and we want to keep everyone safe and informed.
We are closely monitoring the situation with the coronavirus (COVID-19) and we are following the Center for Disease Control (CDC) guidelines for healthcare professionals. In addition to the CDC guidelines, here are some additional actions we are taking:
Training the staff on the CDC guidelines for healthcare professionals and latest developments.
Cleaning and disinfecting surfaces more frequently around the common areas. Note: operatories and sterilization areas are always clean to high standards as part of normal business.
Screening patients before they get seated for their appointment.
In the patient waiting area and around the dental office: we included alcohol-based hand sanitizers, tissues, posted communication posters, and we reduced the number of toys and magazines available to reduce risk of contamination surfaces.
IMPORTANT – WE NEED YOUR HELP!
While we are taking action, we also need your cooperation in helping us maintain the safety of the office and your fellow patients. How can you help? Here are some guidelines:
It is important that if you are experiencing a fever, chills, coughing or shortness of breath, DO NOT come to the office for your appointment and instead call the office to reschedule.
If you have traveled anywhere internationally in the past 3 weeks, we ask you to call the office and notify the staff of your travels before arriving to the office for your appointment.
Follow CDC guidelines for avoiding spreading germs and viruses before and during your visit.
CDC recommends washing hands very frequently, covering your coughs/sneezes, and avoid touching your face.
For more information, please visit the CDC at: https://www.cdc.gov/coronavirus/2019-ncov/community/index.html
If you have any questions of concerns, please do not hesitate to call the office at 770-977-0977.
Sincerely,
Dr. Castiblanco & Staff